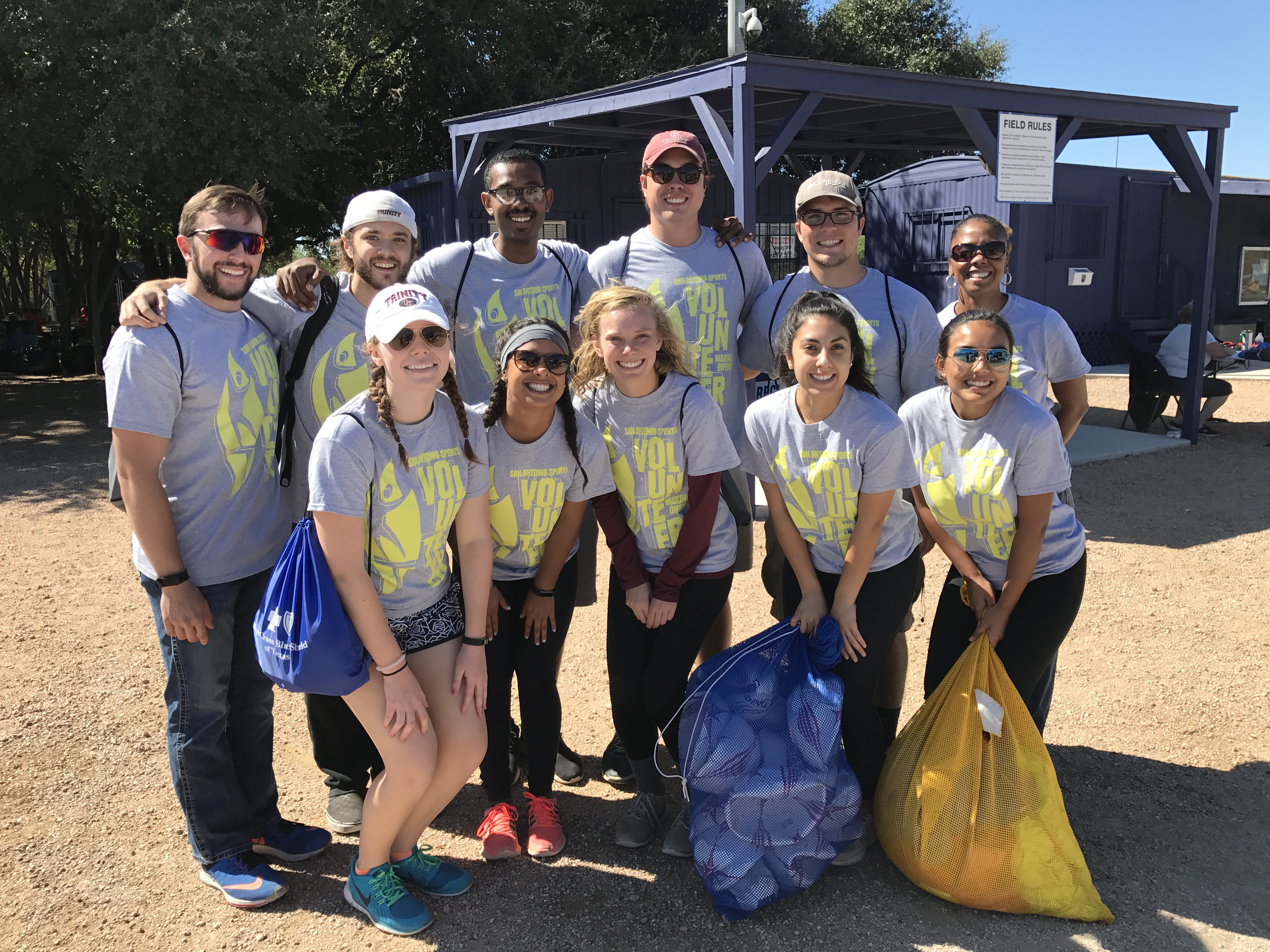 The passion for community service is strong on many college campuses. This is true at Trinity University whose students frequently volunteer at our events. Students representing fraternities, sororities and the Trinity University Volunteer Action Council have helped at the Rock 'n' Roll San Antonio Marathon and Kids Rock, San Antonio Sports Corporate Cup, San Antonio Sports Hall of Fame Tribute, Valor Games Southwest, and several i play! afterschool tournaments, to name a few! Many are referred by Dr. Jacob Tingle, director of the Office of Experiential Learning and chair of the Sport Management minor.
"A core philosophy of our sport management minor is for our students to understand the important role sport plays in society," says Tingle.  "I believe the best way to help them develop that strong awareness is to volunteer at events like the Corporate Cup, Valor Games, and i play! afterschool.  Because it's a core value of our program, students must complete a total of 50 community service hours in order to graduate with the minor."
Folding in this requirement was a no-brainer for Tingle who first learned of San Antonio Sports while completing his master's in Sport Administration at the University of the Incarnate Word. "I volunteered more than 600 hours with Bill Hanson and Jenny Carnes, and Elena Wells. Working the Roundball Ruckus was a wonderful opportunity to help raise money to support San Antonio Sports, but also a GREAT way to learn conflict resolution, and other important event management skills. Because of those experiences, I've always encouraged our students to volunteer with San Antonio Sports."
Trinity student Ben Milliet recalls volunteering at the Corporate Cup, an event he calls "ripe with competition and a lively atmosphere." Ben was keeping score for the 3v3 basketball tournament. "Team Valero was down by five points to Team SWBC, and there is not much energy in the building. All of a sudden more and more of Team Valero files into the building and begin to cheer on their squad. It was a game changer, with Team Valero winning and moving on to the championship in a gym filled with chaos from their fans. The support Team Valero showed for their team members on the court not only made the game more exciting, but willed their team to a come-from-behind win."
Shelby Devore's favorite event is the i play! afterschool soccer tournament. "It is so much fun to see these kids play and get to use their skills that they have been working on. Sports are just a great way for them to learn, make friends, and have fun."
We feel the same about volunteering. It's a great way to learn, make friends and have fun. Come join us at an upcoming event. Visit SanAntonioSports.org/volunteer to learn more.