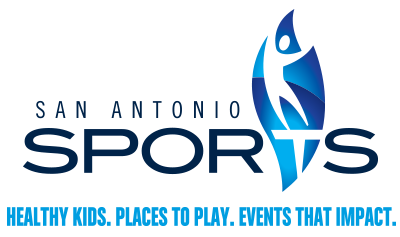 (October 9, 2017) San Antonio Sports announced that Brad Young, Executive Vice President of SWBC's AutoPilot Services, has assumed the role of chairman of its board of directors. He succeeded Carlos Ramos of the Coca-Cola Company. Young has served on the San Antonio Sports board for 16 years and has chaired the nonprofit sports commission's youth committee. He has been with SWBC for more than 25 years with more than 35 years of related insurance, underwriting, operations, and marketing expertise.
"Any non-profit organization is dependent on the passion and actions of its board members," says Russ Bookbinder, President & CEO of San Antonio Sports. "San Antonio Sports is blessed to have Brad Young as our new chairman and grateful to our outgoing chairman, Carlos Ramos for the leadership he has provided. We are thrilled to have the infusion of new ideas and participation from our new board members and all of our team members welcome them to our family."
San Antonio Sports also welcomed three new members to its board of directors. They include:
Jeff Garrison, a 33-year radio veteran, has done on-air programming since 1983. He joined Cox Media Group in 2013 and currently oversees its local stations. Steve Brauer, is currently executive vice president at Zachry Group and has been with the company for 28 years. Brian Hurtak has been with USAA since 2010 and serves as the executive director of Deposit Experiences.
Additionally, two new executives are replacing their companies' representatives on the San Antonio Sports board of directors:
Brannon Lacey, Vice President and General manager, Rackspace
Brock Purslow, Vice President of Sales – Texas, Humana.
San Antonio Sports is a nonprofit organization whose mission is to transform our community through the power of sport. San Antonio Sports bids on and hosts premier sporting events such as NCAA® championships, which have generated a local economic impact of more than $617 million. San Antonio Sports kids programs, including its i play! afterschool program, University Health System Go!Kids Challenge™ and SUBWAY KiDS Rock marathon training program, annually touch the lives of more than 150,000 children in San Antonio through sports training and fitness programs. Additionally, San Antonio Sports serves as a catalyst for the development of quality recreational and athletic facilities in our community, including San Antonio Sports School Parks. To learn more, visit SanAntonioSports.org.