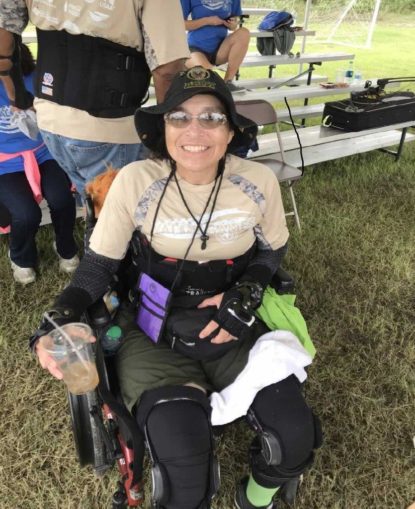 By Olivia Thomas, San Antonio Sports communications intern
I spied Orlanda because I noticed how content she looked cheering on her fellow archery competitors at the Valor Games Southwest. The Valor Games Southwest, supported by World Car is an adaptive sport competition for veterans and active duty military with a physical disability and is hosted by San Antonio Sports. Orlanda is from Canyon, CO and this was her fourth year to make the 13 hour drive to San Antonio for the games. She was one of more than 100 veterans and active duty military who took part in the competition which was held Sept. 26-28.
Orlanda had to leave the military when she was diagnosed with MS (Multiple Sclerosis). She now deals with lupus as well, but this just shows how strong she is.  She lit up with energy when I asked her what the Valor Games meant to her. She told me how her age limits her from competing in many veteran events throughout the year, so each fall she looks forward to her visit to San Antonio. Orlanda competes in every event offered at the Valor Games, but her favorites are cycling and rowing, where she finds her strength.
The Valor Games give Orlanda and her fellow competitors a chance to transfer their stress, anger, and anxiety into productive activity through sports. The games also provide a sense of community, with volunteers and other competitors building relationships with each other. It lets veterans compete and find a thrill in a  physical outlet different from the armed services. They get to be champions and push one another to do their best. Orlanda values the Valor Games because it shows her that the strength and drive she once had aren't gone.
Disabilities have changed many participants' lives, but sports provides an outlet and a release. And the community it provides reminds these veterans that they're not alone. Attending the Valor Games allows each of them to build a relationship with people who can relate to their hardships and whom they can lean on in times of need. I was so glad I got the chance to talk with Orlanda and other participants. Hearing how much the Valor Games has positively affected their lives was humbling. San Antonio Sports' mission is to transform our community through the power of sport . The Valor Games does that, providing a wonderful group of people the opportunity to unite and stand together as a community filled with courage and strength.