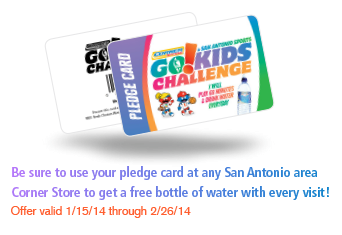 Run, Walk, Jump and Play 60 Minutes Every Day! And Drink Water!
The 2014 Corner Store Go!Kids Challenge™ is a free program from San Antonio Sports that encourages kids to be active and to make water their primary drink.  It's offered in elementary schools around San Antonio for kids in grades K-5.  Schools that have registered for the program have program logs and special pledge cards with a bar code that can be used to get a free bottle of Fresh Choices Spring Water at any area Corner Store.  Check with your PE teacher to see if your school is participating.
Click here to read our press release and get the full scoop.